I stood aside for a moment, my eye fell on this young woman. Her face in a frown, her breathing tight. The man who led her in this dance tapped his arms with his fingers. That could not be the reason that she did not enjoy her dance with him. But it was clear that she did not like something.
I can take it
After the dance I addressed her, "How was it for you?"
"I didn't like the last dance," she said.
"Too bad you didn't report it to him," I told her. "You can always just indicate that."
"I can take it, it was good to feel this because it tells me something that I do in my daily life. Moreover, if he doesn't understand what I mean, it makes no sense to declare it ", was her response.
It touched me that all thoughts and judgments that went through her prevented her from clarifying what she didn't like in this dance.
personal boundaries How do I know my limit?
Recently in a workshop, Helen asked me, "How do I know it's my limit." I looked at her. "You know that." It is that inner feeling that you do not like, unpleasant, that uncomfortable feeling in you. In combination with all those thoughts: Now I leave it, I can have this. Next time I'll say something about it, it feels ok for now. The dance is almost over, now it makes no sense anymore. How crazy usually when I dance with this person, I like it and all the other variations that we say to ourselves. "
Helen looked at me with a sideways smile: "Yes, I know".
Where do you feel in your body that you don't like something? And what are the thoughts that keep you from indicating your limit?
Feel and see what is happening in you
It starts with feeling and seeing what is happening in you. Listen to that subtle feeling in you that something is not right or not pleasant for you. Take it seriously. See what thoughts are going through you that make you feel you shouldn't feel this. And see what thoughts are going through you that are holding you back from showing that you don't like it.
say no Reasons and apologies
There are so many reasons and excuses why you shouldn't set your limits:
"I'm not worth taking myself seriously, I'm not worth having a good time, I feel a fear of rejection, I'm afraid people won't love me or love me when I mark my limit . Or you fill in for the other person that he / she does not understand it or that nothing can be done with it. "
Your decision
Look at these thoughts, feel what these thoughts do to you and see that they are not true. You are powerful and can make the decision to choose for yourself and indicate your limit right through everything that happens in you.
As long as you don't do it, nothing will change. That applies to all of us whether you are male or female.
What a strength when you stand for who you are and what is important to you. And how nice it is for the other person, when you are clear about what you want and don't want.
you have to learn to sav no
© Esther Janssen
https://esther.tantric.dance
"Hoe was het voor jou?"
"De laatste dans vond ik niet fijn"
• "Jammer dat je dat niet aan hem hebt aangegeven, je mag dat altijd gewoon aangeven".
- "Ik kan het wel hebben..."

Ik stond even aan de kant, mijn oog viel op deze jonge vrouw. Haar gezicht in een frons, haar ademhaling vast. De man die haar leidde in deze dans, tikkelde met zijn vingers op haar armen. Dat kon niet de aanleiding zijn dat ze het niet naar haar zin had in deze dans met hem. Maar dat ze iets niet prettig vond, was duidelijk.

Ik kan het wel hebben
Na de dans sprak ik haar aan: "Hoe was het voor jou?"
"De laatste dans vond ik niet fijn", zei ze.
"Jammer dat je dat niet aan hem hebt aangegeven" zei ik haar. "Je mag dat altijd gewoon aangeven".
"Ik kan het wel hebben, het was goed om dit te voelen omdat het me iets duidelijk maakt wat ik ook doe in mijn dagelijks leven. Bovendien als hij het niet begrijpt wat ik bedoel, heeft het ook geen zin om het aan te geven", was haar reactie.
Het raakte me dat ze door alle gedachten en oordelen die door haar heen gingen, zich ervan liet weerhouden om helder aan te geven wat ze niet prettig vond in deze dans.


Hoe weet ik wat mijn grens is?
Laatst in een workshop vroeg Helen aan mij: "Hoe weet ik dan dat het mijn grens is". Ik keek haar aan. "Dat weet je." Het is dat gevoel van binnen dat je het niet fijn vindt, niet prettig, dat onbehagelijke gevoel in jou. In combinatie met al die gedachten: Nu laat ik het maar, ik kan dit wel hebben. Volgende keer zeg ik er iets van, Het voelt voor nu wel ok. De dans is bijna over, nu heeft het geen zin meer, Wat gek meestal wanneer ik met deze persoon dans, vind ik het fijn en al die andere varianten die we tegen onszelf zeggen."
Helen keek me met een schuin lachje aan: "Ja, ik weet het".

Waar voel jij in jouw lichaam dat je iets niet fijn vindt? En wat zijn de gedachten die jou weerhouden van het aangeven van jouw grens?


Voelen en zien wat er in jou gebeurt
Het begint ermee dat je gaat voelen en zien wat er in je gebeurt. Luister naar dat subtiele gevoel in jou dat iets voor jou niet klopt of niet fijn is. Neem het serieus. Zie welke gedachten er door je heen gaan, die maken dat je vindt dat je dit niet mag voelen. En zie welke gedachten er door je heen gaan die je ervan weerhouden om aan te geven dat je het niet fijn vindt.


Redenen en excuses
Er zijn zoveel redenen en excuses te bedenken waarom je niet je grenzen aan moet geven:
"Ik ben het niet waard om mezelf serieus te nemen, Ik ben het niet waard om het fijn te hebben, ik voel angst voor afwijzing, ik ben bang dat mensen me niet lief meer vinden of niet meer van mij houden als ik mijn grens aangeef. Of je vult voor de ander in dat hij/zij het toch niet begrijpt of er toch niets mee kan."



Jouw besluit
Kijk naar deze gedachten, voel wat deze gedachten met je doen én zie dat ze niet waar zijn. Jij bent krachtig en kunt het besluit nemen om dwars door alles wat er in jou gebeurt het besluit te nemen voor jezelf te kiezen en jouw grens aan te geven.
Zolang jij het niet doet, verandert er niks. Dat geldt voor ons allemaal of je nu man bent of vrouw.

Wat een kracht wanneer jij gaat staan voor wie jij bent en wat belangrijk is voor jou. En hoe fijn is het voor de ander, wanneer jij helder bent in wat je wel en niet wilt.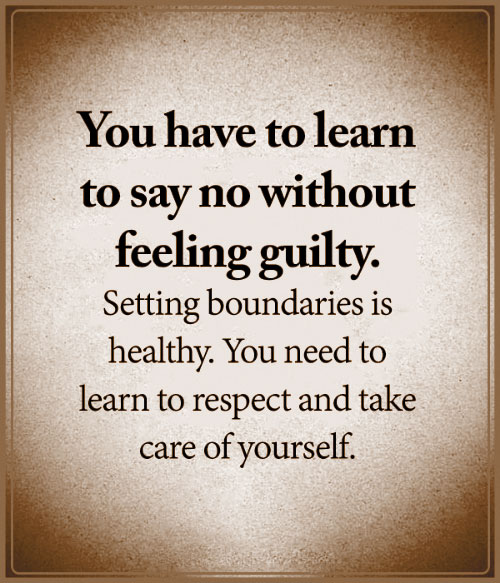 © Esther Janssen
https://esther.tantric.dance